B & I Communications is a company that is dedicated to providing world class communications for your business or home.
To arrange a free quotation please give us a call on 01792 344722
Our Company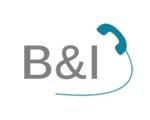 With many years experience in the telecommunications industry B & I have the means to providing a total solution for all your communication needs. We take a pride in the solutions we provide for our customers. We are a Swansea based company with customers through out all of South Wales. We also incorporate Mumbles Telephone Company for home based telecom services.
If you are in business we want to help you save money by reducing your line rental and call charges. We have a varity of solutions to suit different usage and are always happy to advise the options.
Our Customers
Castellamare
Cafe, restaurant and functions at the picturesque setting of Bracelet Bay, Mumbles. Visit their website at: www.castellamare.co.uk
Dawsons Estate Agents
Servicing Gower, Llanelli and Carmarthenshire, Dawsons are the areas top estate agents.
Mama Mias
An authentic high quality Italian restaurant in the heart of Swansea. For more info visit: www.mymammamia.com
CK's Supermarkets
CK's Foodstores is the largest independent food retailer with locations all across South West Wales. Visit their website to find out more at: www.cksupermarkets.co.uk